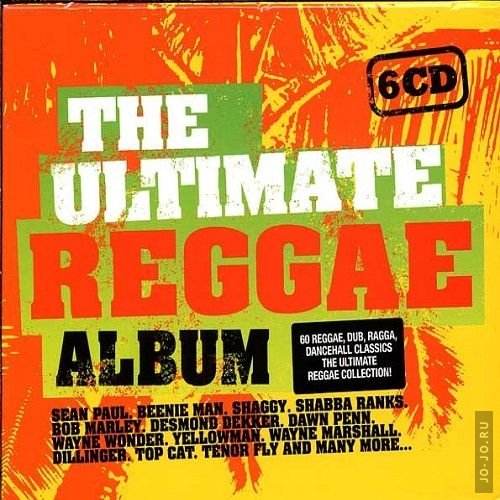 Лейбл: Deca Dance Records
Стиль: Reggae, Dancehall
Дата: May 2011
Качество: 320 kbps
Тип рипа: unmixed / 6CD
Размер: 516 mb
Tracklist:
1.Beenie Man - Who Am I?
2.Shaggy - Lately (With Rayvon)
3.Shabba Ranks - Mr Loverman (With Deborahe Glasgow)
4.Sean Paul - Beware (Boss Riddim By O$$Bo$$)
5.Yellowman - Zungguzunggugunzunguzeng
6.Cutty Ranks - The Stopper
7.Wayne Marshall - Party Here
8.Top Cat - Request The Style
9.Barrington Levy - Under Mi Sensi
10.J C Lodge - Telephone Love
11.Bob Marley - The Sun Is Shining
12.Phillip Leo & CJ Lewis - Youn, Gifted & Black
13.Desmond Dekker - You Can Get It If You Really Want
14.Barrington Levy - Here I Come
15.Clint Eastwood & General Saint - Another One Bites The Dust
16.Winsome - Am I The Same Girl?
17.Tenor Fly - The Bright Side Of Life
18.Dennis Brown - Slow Down Woman
19.Nerious Joseph & Tenor Fly - My Girl
20.Janet Lee Davis - Baby I've Been Missing You
21.Dawn Penn - No, No , No (With Bounty Killer, Dennis Brown & Ken Boothe)
22.Wayne Wonder - No Letting Go (Smooth Summer Mix)
23.Dennis Brown - Money In My Pocket
24.Dillinger - Cocaine In My Brain
25.Clint Eastwood & General Saint - Stop That Train
26.Dr. Alimantado - The Chalice Blaze
27.Delroy Wilson - Cool Operator
28.Dennis Brown - Silver Words
29.Jacob Miller - Baby I Love You So
30.Bobby Jamaica - Party Time
31.Arrow - Hot Hot Hot
32.Barrington Levy - Too Experienced
33.Wayne Wonder - Spare Me34.
Jacques Camus - Come On
35.Clyde & The KGS - Takin' It Easy (Instrumental Mix)
36.Bobby Jamaica - Around My Way
37.Arnold Drake - Girly Girly
38.Ben Gidsjoy - The Beat Goes On
39.Clyde & The KGS - Wah Jah (Instrumenta Mix)
40.Bobby Jamaica - Wicked Tuff
41.The Dubtings - Cigar Man
42.Digby Jones - Dubweiser
43.The Dubtings - Vibe Flow
44.Jacques Camus - Kingston Dub Bus
45.Arnold Drake - Midnight Skank
46.Kinkyminky - Turn It Up (DJ Dubplate Mix)
47.Clyde & The KGS - Come Over Her Baby
48.Eustice Beckford - Streets Ahead
49.Tippa Quarn - Tribal Drum (With Cold Danny)
50.Lion Zimma - Lost Station Dub
51.Clyde & The KGS - Skanktimple (Dub Mix)
52.The Dubtings - Feelin' Irie
53.Jerry Douala - Are You Ready? (1977 Original Mix)
54.Delroy Jenkin's Sonik Soul Band - Simple Dub (Instrumental Mix)
55.The Original Roots - Play Some Music For I
56.Burnie Ranking - Fire Truck Riddim
57.Winston Nino & The Humble-ites - Jah Mash Down The Wicked
58.Leroy Eastwood - Time To Recover
59.James Darnley - Catamaran
60.Bobby Jamaica - Mister Man (7" Edit)
Скачать с letitbit.net
Скачать с vip-file.com
Скачать с shareflare.net